The Civil Service Code – and the Commission's role
This week, the Commission held another open event in Horseguards Road on 'Demystifying the Civil Service Code'.

Two Commissioners – Sarah Laessig and Jane Burgess, and members of the Commission secretariat were on hand to talk about the Code and the Commission's role in hearing appeals from civil servants.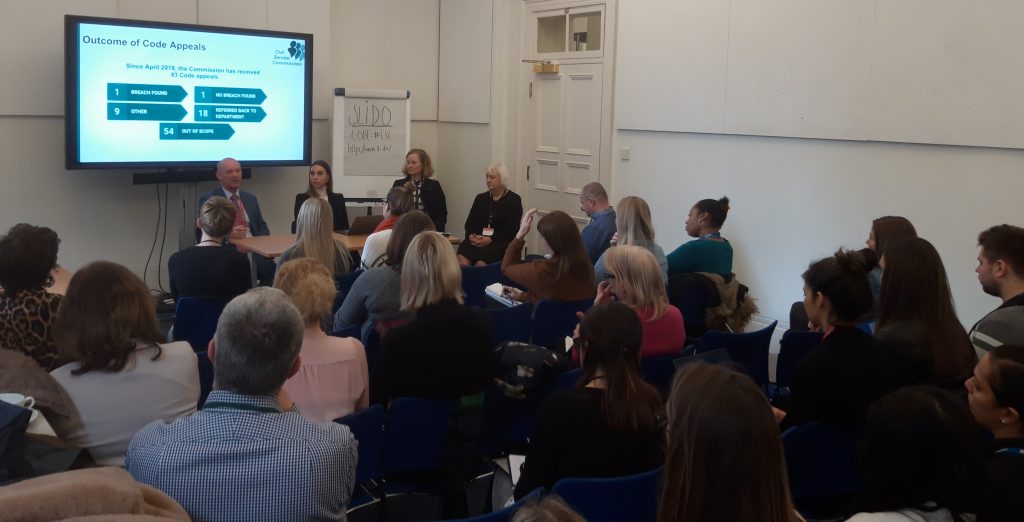 Jane Burgess said:


"The core values – impartiality, honesty, objectivity and integrity – should run through every civil servant. They are an important part of serving the government of the day, of whatever political colour.

As well as testing these values at interview when people join the senior Civil Service, we play a role in promoting the Code and hearing appeals from civil servants of all grades who are unhappy with their own Department's response. I was really encouraged by the level of understanding and knowledge during the discussion at our event and would like to thank all of those who took part on Friday. We will be running more open events so keep an eye on our website and sign up."
If you were unable to attend the event, but are interested in learning about the Code, you can watch the event here.
You can also look at Code appeals decisions by the Commission.

Follow the Commission on twitter @CivServComm.