Diverse senior leaders talk about working in the Civil Service
Naheed Hussain
In our eighth blog in this series, Naheed Hussain, Deputy Chief Crown Prosecutor - Legal Development - CPS, talks about her experience of working in the Civil Service.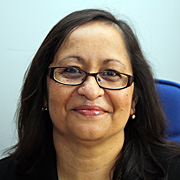 About Naheed
Naheed is a Deputy Chief Crown Prosecutor (DCCP) in CPS headquarters. She leads the Team that is responsible for the delivery of legal training to Solicitors and Barristers in the CPS. Before moving to CPS HQ, Naheed has held DCCP posts in the Specialist Fraud Division as well as in London, Wales, Yorkshire and Humberside.
What do you think the civil service needs to do to attract more candidates from a more diverse background into senior roles? What advice do you have for recruiters?
I think it's important we really highlight the excellent HR policies we have in place and also the wealth of support that is available from staff networks and colleagues. Like others who have contributed to this series, I also think seeing diverse role models at senior levels is vital too. When people think of joining the Civil Service, if they see senior leaders being open about their disabilities, particularly the non-visible ones - it demonstrates that the Civil Service applies its policies and lives up to them.
What could the civil service do better to attract and retain civil servants from a more diverse background overall (at any level)? What do you see as the barriers?
I think we could do a lot more community engagement work, particularly at schools for the 15+ age group. The diverse and wide-ranging job opportunities available in the Civil Service and the opportunities for career development are not as well understood in my experience in BAME or disabled communities. I think the approach recently taken by GCHQ to attract candidates with neurodiverse conditions should be explored by other Departments too.
What has been your personal experience of working in the civil service? What made a difference to you?
I acquired my non-visible disability neurodiverse conditions following an accident when I was already in the Civil Service at an SCS1 grade. My department has been wonderful in supporting me at my current grade. I have also had a lot of support from the FDA and the Disability Staff Network. What has made a real difference to me has been the understanding and support of my team and my peers.
Why is diversity particularly important at senior levels?
For me, it's about representing the country we serve. A diverse workforce - and diverse senior leadership team - means we can get the best from our people and deliver outcomes that better serve all the communities in this country.
What experiences did you have working at a senior level in the private sector? Are there lessons that the civil service can learn from the private sector in terms of recruiting staff from a more diverse background?
I can't really answer this as I have no recent experience of working in the private sector. From what I hear from peers in the private sector, the Civil Service is way ahead, at least in the legal profession.
What drives and motivates you in your career?
Essentially, I am motivated by the idea of public service. I want to do my best to contribute to a fair and effective criminal justice system.
What are your interests and hobbies outside work?
In my spare time, I enjoy paragliding, travelling, swimming (pre-Covid obviously), yoga, playing with my grandchildren, cooking and reading.